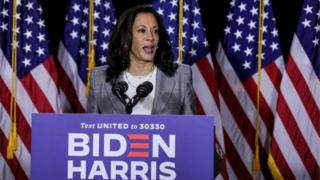 President Donald Trump claims he has read Democratic working mate Kamala Harris "would not qualify" to provide as US vice-president, amplifying a fringe lawful concept critics decry as racist.
Ms Harris was born to a Jamaican father and Indian mother in Oakland, California, on 20 Oct 1964.
But a constitutional regulation professor has questioned her eligibility.
For decades, Mr Trump promoted a bogus "birther" theory that President Barack Obama was not born in the US.
At Thursday's press convention, Mr Trump was asked about the argument in opposition to Ms Harris, who is a California senator.
The Republican president stated: "I just read it right now that she would not meet up with the necessities and by the way the law firm that wrote that piece is a incredibly really certified, incredibly proficient lawyer.
"I have no concept if which is appropriate. I would have assumed the Democrats would have checked that out prior to she will get picked to operate for vice-president.
"But that's a quite major… you might be indicating that, they're stating that she won't qualify for the reason that she wasn't born in this country."
The reporter replied there was no dilemma that Ms Harris was born in the US, simply that her moms and dads could not have been lawful everlasting people at that time.
Previously on Thursday, a Trump campaign adviser, Jenna Ellis, reposted a tweet from the head of conservative group Judicial Observe, Tim Fitton.
In that tweet, Mr Fitton questioned whether or not Ms Harris was "ineligible to be Vice President under the US Constitution's 'Citizenship Clause'".
He also shared an belief piece published in Newsweek magazine by John Eastman, a legislation professor at Chapman University in California.
Prof Eastman cites Write-up II of the US Constitution's wording that "no human being besides a organic born citizen… shall be qualified to the office environment of President".
He also details out that the 14th Amendment to the Structure says "all persons born… in the United States, and issue to the jurisdiction thereof, are citizens".
Prof Eastman argument hinges on the idea that Ms Harris may not have been subject matter to US jurisdiction if her dad and mom were being, for case in point, on student visas at the time of their daughter's birth in California.
Nevertheless, yet another constitutional law skilled told CBS Information, the BBC's US companion, that Prof Eastman's argument was "truly silly".
Erwin Chemerinsky, the dean of Berkeley Law College, wrote in an e-mail: "Under area 1 of the 14th Amendment, any one born in the United States is a United States citizen.
"The Supreme Court has held this considering the fact that the 1890s. Kamala Harris was born in the United States."