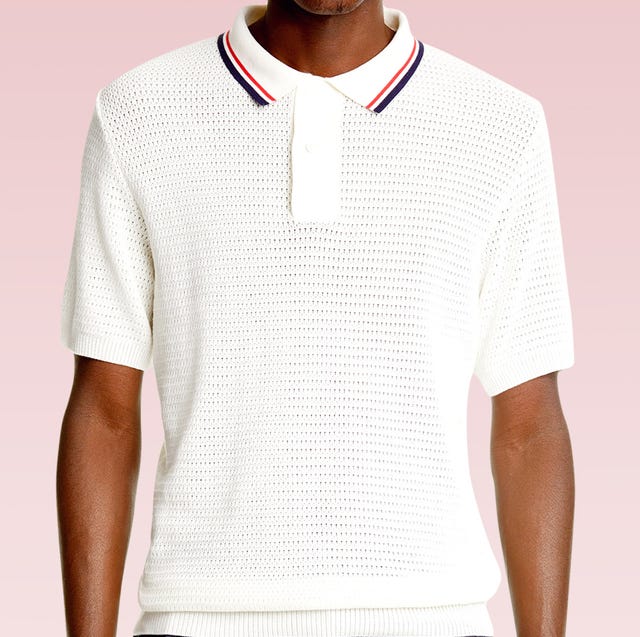 From first grade to twelfth I went to a school that stipulated I wear some sort of collared shirt at all times. Naturally, I daydreamed of tees. The polo became my arch nemesis. A lackluster substitute for the T-shirt, its more casual cousin, the polo represented—at least in my mind—the worst type of tyranny. Even then, not being able to wear whatever I wanted, whenever I wanted, bothered me to no end. (Was I mortifyingly self-centered and otherwise ignorant of the actual, very real issues kids my age were dealing with around the world, let alone within my own school? Dude, I was, like, 15. No shit. I was a fucking moron.)
As soon as I graduate I'm never wearing one of these things again, I remember thinking to myself. Sure, it's not like the polo was my only option. But button-downs often felt comically dressy for a middle schooler with a build you might very generously dub "slim-thick" today, and in high school the last thing I wanted to do was spend time cheffing up a grown-ass fit each morning when I could be catching up on sleep. Polos became a go-to, the easy, collared, T-shirt alternative I loved to hate. (Suffice to say, the fits I could've—should've!—gotten off throughout those years still haunt me to this day.)
And then a funny thing happened. A few months ago, the polo—long considered a symbol of ultra-privileged WASPdom and now fending off serious co-option attempts from the worst of the alt-right—suddenly started looking like one of the most democratic pieces of clothing a guy could own.
Because all those perceived cons I was too stubborn to appreciate at the time make the polo (sighs deeply) a perfect shirt for this particular moment. It's comfortable and flattering. It's easy to style and effortlessly frames your face, even despite the unforgiving lighting and odd angles that are now WFH norms. And, crucially, it somehow still manages to straddle the line between helping you look appropriately dressed-up and not making you feel like you're the one dude who came through in a suit and tie when the invite called for "creative beach casual."
In other words, my sweet, sweet prince: It wasn't you, it was me. Any chance you're ready to give it another shot? I'm different now. I promise.
Advertisement – Continue Reading Below
Pique Slim-Fit Polo Shirt
Basics are made for building a wardrobe around. If you're on the fence about the polo life, it's never a bad play to proverbially dip your toes in the water first. 
The Performance Polo
Everlane
everlane.com
$38.00
Apply same logic here. Wash. Rinse. Repeat.  
Rib Stripe Johnny Collar Polo
Topman
nordstrom.com
$45.00
An old-school polo for new-school people. 
Slim Fit Piqué Polo Shirt
Lacoste
nordstrom.com
$53.70
The shirt that literally started it all. 
Slit Collar Polo Shirt
The polo, pared-down to its most fundamental features. 
Contrast-Tipped Piqué Polo Shirt
Club Monaco
mrporter.com
$90.00
Like taking a trip straight to the Riviera, sans any of the hassle normally involved. 
Cord Pocket Polo
Fred Perry x Nicholas Daley
endclothing.com
$95.00
Maaan, there's something about those zippers. If you're a size medium you're in luck. 
Montego Stripe Polo
Another day, another indisputable Stüssy slapper.  
White Beaded 'England' Polo
Ahluwalia
ssense.com
$105.00
The British are coming. (And I'm about it.) 
Apolo Striped Polo Shirt
Daily Paper
farfetch.com
$113.00
A polo (rugby?) that that'll only get better with wear. 
Cotton-Piqué Polo Shirt
Polo Ralph Lauren
mrporter.com
$125.00
A cuddly riff on the classic style the brand is damn near synonymous with. 
Logo Patch Polo Shirt
A-COLD-WALL*
farfetch.com
$146.00
A shirt that looks like it got lost somewhere on the way to the golf course and then, falling in with a cooler crowd, decided to hang around for a while. 
Striped Knitted Cotton Polo Shirt
Beams Plus
mrporter.com
$150.00
Ready-made for serious lounging, no matter where you find yourself this summer. 
Popper Polo Shirt
Palace
farfetch.com
$160.00
Almost exactly like the one you first flexed in throughout your middle school years. 
Tipped Short Sleeve Mesh Knit Polo
Noah
nordstrom.com
$168.00
A knit polo from a drop we still can't stop talking about. 
Casa Hotel Polo Shirt
Casablanca
farfetch.com
$184.00
Even if the only travel now on the agenda is of the "staycation" variety (sorry, man), why ditch the wardrobe you planned on bringing along, too? 
Textured Stitch Tipped Sweater Polo
Todd Snyder
toddsnyder.com
$198.00
Polo Shirt
Maxhosa Africa
maxhosa.africa
$214.00
A kaleidoscopic, 100 percent silk (!) take from a master of the form, made in South Africa. 
Beige Fine Knit Polo
Martine Rose
ssense.com
$261.00
Slouchy, vintage-y, and altogether very, very swaggy. 
Pleated Polo Shirt
Issey Miyake Homme Plisse
nordstrom.com
$275.00
Subscribe to Esquire Magazine
This content is created and maintained by a third party, and imported onto this page to help users provide their email addresses. You may be able to find more information about this and similar content at piano.io
This commenting section is created and maintained by a third party, and imported onto this page. You may be able to find more information on their web site.
Advertisement – Continue Reading Below